The Dallas Cowboys have zero problems in the backfield.
When it comes to problems on this football team, the running back position isn't one to worry about.  Well, let me re-phrase that, at least no problems on the football field.  As long as Ezekiel Elliott can stay out of trouble off the field, Dallas will be set for years in the backfield.
On the field Elliott is a top talent, it's off the field that he needs to clean up!
Elliott isn't just the Cowboys top running back, he is in the running for the best in the entire league.  Zeke will be coming into the 2018 season making up for lost time this past season.  What Elliott brings to the table is something you can't duplicate.  We found out first hand about that during his six-game suspension.
After losing his lengthy battle in the courts with the NFL for failing the league's personal conduct policy, Zeke was forced to miss time.  Elliott saw his six-game suspension come to life in week 10.  Dallas would go 3-3 in those six games, therefore, putting themselves in a tough situation to make the playoffs.  Elliott couldn't save the season as the Cowboys lost his first game back.  A game against the Seattle Seahawks in week 16 ended their hopes of making the playoffs in 2017.
Rod Smith and Alfred Morris filled in very nicely for Zeke during his suspension.  Between the two, I think Smith is a lock to make the team and has earned playing time with the play he had during Zeke's absence.  With a player like Zeke, who demands so many carries, their will be very few to remain.  That will likely mean the end of Morris moving forward.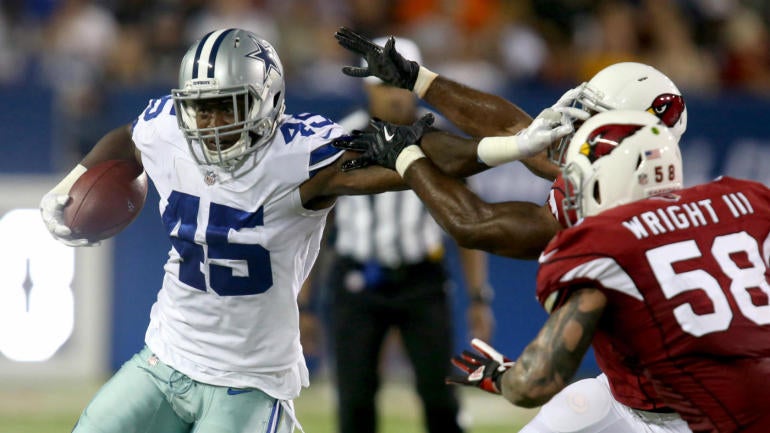 Morris can still play in this league, as we saw this season.  He may not be able to carry a full load over a 16-game season, but he would be a nice fit for almost any other team in the NFL.  It's just that the Cowboys are loaded at that position with Zeke and Smith looking to be the combination moving forward.
For the most part, Dallas will use what they have at RB in 2018.  However, I wouldn't count out the Cowboys using a late round pick in April's draft to grab depth at the position.
Did Smith's play in 2017 earn him snaps during the 2018 season?