The Dallas Cowboys and Tennessee Titans have one thing in common, well two if you include the Titans current starting running back.
Dallas and Tennessee have two of the best offensive lines in football and it shows the way the two teams pounded the ball during the 2016 NFL season.  The other thing they have in common is that current Titans starting running back DeMarco Murray was a star in Dallas just a few years ago running behind this dominate offensive line.  Now the Cowboys have another premier back in their possession with second-year back Ezekiel Elliott.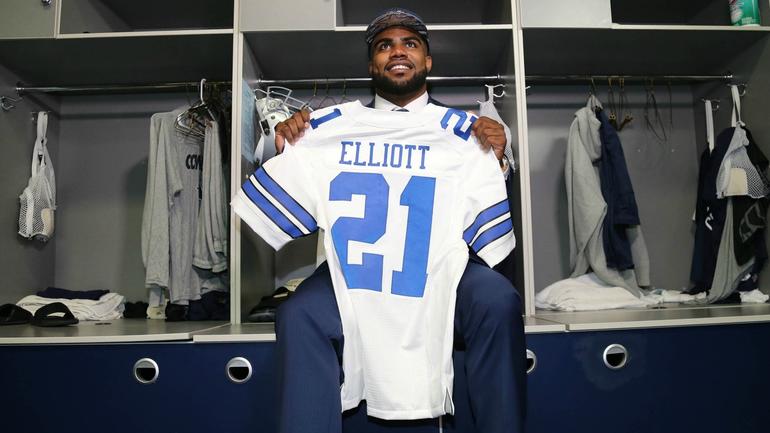 Per bloggingtheboys.com, Murray had the privilege to run behind a great offensive line in Dallas, now he has the opportunity to run behind another pretty good offensive line in Tennessee.  He recently went on record showing his support for the guys up front.
"I would put our line up against anyone."
Titans running back DeMarco Murray did most of his damage in 2016 on rushing attempts outside the tackles. pic.twitter.com/sI4lkn3HJp

— Pro Football Focus (@PFF) June 14, 2017
During the 2013-2014 seasons, Murray ran behind the Cowboys powerful offensive line, he finished those years with 1,121 yards and 1,845 yards respectively.  He spent his first four years on the Cowboys since being drafted in the third-round in 2011.  This past year in Tennessee, Murray ran behind the Titans line for 1,287 yards.
To say that he would rather have the Titans offensive line is a little far-fetched, but I understand it.  He doesn't want to piss off the guys up front that are leading the way for him.  However, you know he knows where the best front five reside, here in Dallas with the Cowboys.  With a trio of All-Pro's, it's just common sense to say that the Cowboys have the best line in football.   I would put the Titans in second, but it would be a distant second place.
Come on DeMarco, you know better then this!