The Green Bay Packers have plenty of options to go around on the offensive side of the ball.
With the addition of Martellus Bennett and Lance Kendricks, the Packers added a pair of extra mouths to feed in the offense in Green Bay.  With a quarterback like Aaron Rodgers, the offense didn't need more options on offense, he can make an average player great, along with turning a good player elite.  Green Bay wanted to upgrade the tight end position and by doing so, we might be seeing the likes of Ty Montgomery and Randall Cobb needing to up their game to keep their position.
To go along with the new tight ends, we see a healthy Jordy Nelson and the constant improvement of Davante Adams heading into the 2017 season.  We only have one football to go around and it might turn into a need to move someone for help on the defensive side of the ball.  Cobb could be a player that could bring in an extra draft pick or a role player that could help this defense.  His production has gone down over the past couple years, that could be due to injuries or the fact that this offense has too many weapons to allow him to get his stats that he was accustomed to in the past.
In 2014, Cobb has his best season with 91 receptions and 1,287 yards, along with 12 touchdowns.  That type of production just two years old can bring something in this passing league.  Cobb isn't the only player that might be looking to fight for his right to be the starter in this Packers offense, Montgomery looks to continue to keep the starting running back role in Green Bay.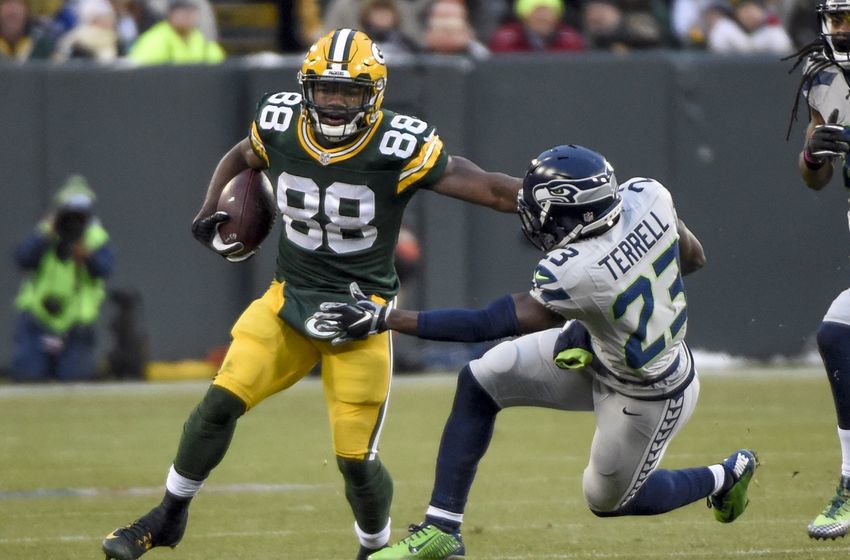 Per Bleacher Report, the Packers didn't use a high-draft pick or use the free agent market to grab a premier running back.  However, they did grab three running backs in this past April's draft.  Montgomery has the ability to keep this starting job, but does he have the size and mindset to take on a full-time workload out of the back field?  He finished the second half of 2016 with a 5.9-yard average as the lead back in Green Bay.
Who on this offense has the best chance to keep the starting job, Cobb or Montgomery?  Or will both continue to have major impacts for this football team?